On 23rd September 2017 with curiosity and trepidation, I will become a 'performer' in a 'unique live oral communication performance' created by the artist Pamela Neil (www.pamelaneil.co.uk), looking at some of the issues around child protection and adoption.
In this performance piece I want to explore important questions that are not being raised publicly, such as – can we 'make' happy families? Do we need to 'rescue' children or should we be trying to keep unhappy families together?
And probably most fundamentally of all – can we impose identity on a child? What IS our identity? And what does it do to us – as individuals and as a society – to see the identity attached to our birth family be destroyed or altered by the state? When does the price to pay for child protection simply become too high?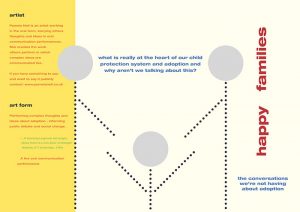 I was attracted to this unique art form, creating a live oral communication performance about adoption, because it's become very clear to me over the years that the necessary public debate about these issues keeps stalling and stagnating around the polarised positions of those who feel very strongly that their experiences and understanding represent the only truth.
Attempts to broaden debate and understanding often falter because when the debate pushes so many emotional buttons, attempts to make a particular argument often seem to end up being a barrier to communication rather than opening a door to greater understanding and awareness – its not so much the FACTS that win hearts and minds but the FEELINGS they create.
Is it possible therefore to come at this from another angle? Not the dry legal approach which has informed my training and professional life – but trying to shine a light on the issues in another way?
One of the most important benefits of any performance or work of art must be how powerfully complex thoughts and ideas can be communicated to an audience; straight to the heart, rather than draining our interest in a dull legal lecture and PowerPoint.
Where and when
I have no idea if this will work, but whatever happens I am sure it will be interesting and I am really excited about the venue!
I hope you can join me at 'happy families, the conversations we're not having about adoption', 18:30 – 20:30
Saturday 23 September 2017 Arnolfini Gallery Bristol UK.
Tickets are free and you can register here via EventBrite