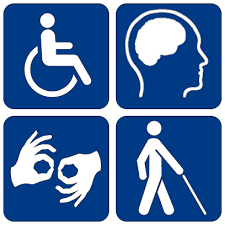 Views from a disabled parent about getting help and support
You are 'disabled' according to the Equality Act 2010 if you have a physical or mental impairment that has a 'substantial' and 'long-term' negative effect on your ability to do normal daily activities.
We have written here in particular about parents with a learning disability.
Visit Disability, Pregnancy and Parenthood, a national information charity or the Disabled Parents Network. They have a helpline on 07817 300103. See also Best Beginnings, a charity dedicated to ending child health inequalities. 
Being disabled doesn't make you a bad parent. You may feel very worried, or a failure or scared that children's services will think you are a bad parent BUT anyone who says you are by definition a bad/ neglectful parent because you are disabled is discriminating against you. It's not legal to say this.
Ask for an assessment from Adult Social Care before anything else takes place. You can self refer or ask your GP to refer (GPs can sometimes progress urgent referrals and get you seen quicker).
Adult Social Care will send an assessor out to your home to do a thorough assessment of your needs social care needs. It's important to find out your council's criteria and levels for providing help. Many councils now only provide services to people who meet the 'Fair Access To Care' criteria at the substantial level or above.
It is important that as part of this assessment you are clear about the needs you have as a parent with a disability. Local Authorities have a duty to provide services to adults with disabilities who are unable to meet their parenting role because of their disability, and give them support to do so.
After your needs have been assessed Adult Social Care will decide whether you're entitled to any help. If you are then they will probably offer you a 'personal budget' and give you the opportunity to decide how your needs will be met.
Its IS Adult Social Care's responsibility to meet your needs as a disabled person in all your roles (personal care, as a parent etc). This could be through direct help (providing council or agency carers), or via direct payments (where you have a budget to spend on your care). Sometimes they may refer you on to other services such as charities and home start organisations
The budget for your care should come from Adult Social Care but in some circumstances they may ask Children's Services or Health Services to top this amount up.
The theory is that if your needs are being met as a disabled parent, your child should have no remaining needs unmet.
Do find out very clearly on what grounds you are receiving help. Do not agree that your child is at risk of neglect just because of your disability. Any suggestion of this is more likely to come from Children's Services than Adult Social Care, as they may have much more limited experience of working with parents with disabilities. In scenarios such as this make sure that your Social Worker from Adult Social Care is invited to any Children In Need or Team Around the Child meetings so that they can tell children's services what support they are able to offer you.
This post was edited by 'ruralsocialworker' a Social Worker working with parents with disabilities. 
Case Law
There is an interesting article here about the experience of solicitors working for parents with learning disabilities. 
Read the Top Ten Tips for helping people with learning disabilities in court. 
The court has issued guidance on dealing with cases where a parent has a learning disability in Re A [2013]
(a) There is duty on those acting for the parent(s) to identify their client's need for assistance in responding to questions and giving instructions, which must be considered by representatives at the outset of their instruction.  Any need for support must be addressed at the earliest opportunity.
(b) When this is known prior to the outset of proceedings, on issuing, local authorities should draw the issue of competence and capacity to the court's attention. In turn, on the day following issue, the court will give directions for the appointment of a litigation friend.  The new PLO envisages that in those circumstances the court should give directions for special measures at the case management hearing to take place by day 12 of the proceedings.
(c) When the issue of capacity and competence is not identified at the outset, it should be addressed fully at the case management hearing.  At that hearing, those representing the parents should apply for special measures, where the case for such measures can be made out without any expert advice. Alternatively, where expert advice is necessary to identify the existence or extent of the learning difficulties, they should make an application in accordance with Part 25 of the FPR for an expert to carry out an immediate assessment of the capacity and competence of the party.
(d) The legal representatives should normally by the date of the case management hearing identify an agency to assist their client to give evidence through an intermediary or otherwise if the court concludes that such measures are required.  If the court is satisfied that an expert report is necessary to determine whether the party lacks capacity or competence and/or as to the extent of any special measures required, it may direct a further case management hearing to take place once the expert has reported so that detailed directions can then be given for the instruction of an intermediary and/or such other assistance as may be necessary.
(e) So far as funding is concerned, there is a distinction between the cost of obtaining a report from an expert as to capacity and competence, and the cost of providing services from an intermediary.  The former will, subject to the approval of the legal aid agency,whereas the latter, as a type of interpretation service, will be borne by the Court Service.  Those representing the relevant party should address these funding issues at the earliest opportunity.  They should obtain prior approval from the legal aid agency for the instruction of the expert and, as soon as possible, give notice to Her Majesty's Courts and Tribunal Service that the services of an intermediary are likely to be required.
The Court of Appeal has published guidelines on dealing with cases where the parents have a hearing disability in Re C [2014]. The court commented:
It is crucial for professionals and those involved in the court system, in particular judges, to understand one profound difference between the ordinary need in cases where parties to the proceedings may speak a different language for there to be "translation", and the need for a different character of professional intervention in these cases.  This need is not solely or even largely one of "translation" as would be the case in the straightforward translation of one verbal language to another; the exercise is one of "interpretation" rather than translation.  Communication between a profoundly deaf individual and professionals for the purpose of assessment and court proceedings involves a sophisticated, and to a degree bespoke, understanding of both the process of such communication and the level and character of the deaf person's comprehension of the issues which those in the hearing population simply take as commonplace.  For a profoundly deaf person, the "commonplace" may not be readily understood or accessible simply because of their inability to be exposed to ordinary communication in the course of their everyday life.  What is required is expert and insightful analysis and support from a suitably qualified professional, and the advice this court has in the reports we have, a suitably qualified professional who is themselves deaf, at the very earliest stage.
For further comment on best practice for those parents with a hearing impairment, see this post by barrister Abigail Bond on The Transparency Project in March 2021.