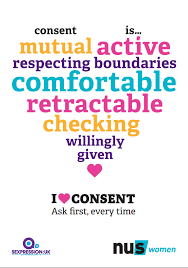 noun
permission for something to happen or agreement to do something.
"no change may be made without the consent of all the partners"
synonyms: agreement, assent, concurrence, accord; More
verb
give permission for something to happen.
"he consented to a search by a detective"
synonyms: agree to, assent to, allow, give permission for, sanction, accept, approve, acquiesce in, go along with, accede to, concede to, yield to, give in to, submit to, comply with, abide by, concur with, conform to
"all the patients consented to surgery"
Pretty clear isn't it, yet speaking as one of any number of parents who have been duped by having their children removed under S20 , the term consent does not seem that easy to understand by all social workers.
This  short post is not about the legal implications, I am not a lawyer, but the practical and emotional effect on parents by dispensing with their consent. Consent is important , it is normally needed when someone or something could invade your privacy or potentially cause you harm. For instance we all have to consent to cookies on various website's which store our browsing history, more seriously all sex must be between consenting adults if not it is a crime. Having you child removed from you without your consent is a violation, it feels as emotionally harmful as rape and that is no exaggeration. You are completely powerless, nobody will listen and you are as frightened as hell. You don't know were to turn  and you believe the social worker because they sound knowledgeable. It is the power imbalance at its worst.
If you then find out your child has been removed unlawfully, you ricochet into the grief cycle starting with anger, which plays straight into the hands of the local authority who will deem you as mentally unstable and /or non compliant. You will feel guilt for not knowing that what happened was wrong and that you have let your children down. Closely followed by shame that you were taken in. Night terrors , can become the norm from the resulting PTSD.
Practically , parents are encouraged to break the law with regard to the benefits system . I remember asking whether I should still receive child benefit and was told to do so. Yet if a child lives elsewhere for more than 8 weeks the parent is supposed to stop claiming
https://www.gov.uk/child-benefit-child-lives-with-someone-else
.
Many parents actually then up in debt , on top of their other problems whilst they are having to downsize. They may be unlawfully placed on supervised contact, so on top of their grief, their life has to revolve around getting to contact. Jobs and other commitments  are disrupted leading to added strain.  Local Authorities may pay out of pocket expenses for travel to contact , but these are normally  a  minimum and paid late.  Plus most parents will have no say as contact is  gradually whittled down. Contact may very well be supervised despite being unlawful. All of this is likely to have occurred without the benefit of legal advice.
Could you imagine going for an operation without the possible implications explained to you or even buy a car on a loan and you signing to say you understood. Consent matters, especially in removal of something more precious to you than anything in the world. Lack of consent leaves open wounds for years after, I know mine are still festering, that's why I had to write this post. I hope it helps to stop the coercion of parents happening.