For some time now I have been talking about and worried about the network of people who help parents leave the country if they are facing care proceedings. I am not convinced they are motivated by wanting to help people. I think they are more interested in showing they can get one over the 'system'.
I have written about this before, particularly about how worried I am about John Hemming and Ian Josephs – who has given money to Marie Black, a convicted paedophile. I discussed their activities in more detail here:  'Helping Parents Leave the Jurisdiction'.
John Hemming set up 'Justice For Families' [JFF]  an organisation that;
campaigns to improve the operation of the family courts (including the court of protection) in order to treat families with respect.
John Hemming has often advised people to leave the country as they won't get a fair hearing here – see Panorama 'I Want My Baby Back' in January 2014. There was a post on his blog in July 2015 about 'mums on the run' but that blog post no longer exists. The URL reads 'Gena-and-kerry-mums-on-run-in-france' [URL is an acronym for Uniform Resource Locator and is a reference (an address) to a resource on the Internet.] There is a reference to it on the 'Brummie.net' site which confirms the name 'Gena'. 
So I am going to assume that John Hemming knew about someone called Gena in 2015. I am also going to assume that John Hemming has been promoting Gena as a safe 'host family' in France for the 'mums on the run' as  I have seen Facebook messages from John Hemming to a parent saying:
'Why not go to Gena's?' …'The advantage with Gena is she knows the system where she lives.'
EDIT – the link between John Hemming and Gena is beyond doubt. Also, he knew that she had reported her partner as aggressive. See this article from the Sunday Times in December 2015. 
Out of the frying pan and into the fire
I have recently been given some very disturbing information in copies of texts, emails and Facebook messages from three different parents who have had first hand experience of being 'mums on the run'. All went to a house in France occupied by 'Gena' and her partner.  All were given the details by John Hemming and/or Ian Josephs.
The mothers speak of horrible conditions in the house. Of being physically and verbally abused and having money either taken from them or not given to them so they could not buy even nappies for their children. One mother had to call the French police; the French authorities are now apparently investigating Gena.
I am told that one of the mothers told John Hemming and Ian Josephs about what was going on.   I have seen a message to one parent from Tim Haines [one of the JFF Advisors] saying that JFF held a meeting and said they would no longer refer parents to Gena. I don't know when the date of that meeting was or what actual discussions were had. It would be interesting to know.
Even more disturbing information came to light in September 2016. That Gena's partner, who lives in the house with her, was found in court proceedings in the UK to pose a sexual risk to children. 3 children between the ages of 7-14 have made allegations that he sexually abused them.
Questions that need to be answered.
I am seriously worried about this.  I have challenged Ian Josephs many times about what information he got about the parents he helped to leave the country and whether or not he followed up their cases once they had left. He carries out no risk assessment and no follow up. He has already given money to one mother who went on to be convicted of really serious crimes of sexual abuse against children.
But now it seems the problem is even bigger and even more dangerous – not only do John Hemming and Ian Josephs have little interest in the backgrounds of the parents they help leave the country, these vulnerable mothers are being encouraged to go somewhere which is not safe. Not for them or their children.
I have for a long time now accused John Hemming of not caring much for the parents or children he claims to 'help'. I have said that he is more interested in promoting his own agenda. If I am wrong about that, no doubt John Hemming could assist me understand his actions/motivations better, by answering the questions I set out below.
I hope that someone does not have to get seriously hurt or abused before people start taking this seriously.
When did JFF/John Hemming/Ian Josephs start sending parents to Gena's house?
How much money has JFF/John Hemming/Ian Josephs paid to Gena?
If they have paid her money, what was that money for?
Is the source of that money donations from the public or is it privately funded by either/or John Hemming/Ian Josephs?
What checks/risk assessment did JFF/John Hemming/Ian Josephs/ carry out on Gena and those living in her house before advising other parents to go there?
When did they know that conditions at Gena's home were not acceptable?
When did they know that mothers were complaining about physical and verbal abuse and having their money taken/not given?
When did they know that Gena was living with a man who poses a clear sexual risk to children?
Do JFF/John Hemming/Ian Josephs refer 'mums on the run' to any other people abroad? If so, what checks/risk assessment have they done regarding these other people?
If you are a parent who is thinking about leaving the country rather than face care proceedings PLEASE be careful. PLEASE be wary of people offering to 'help' you – they may not actually have your best interests at heart at all. PLEASE get some good advice from someone you trust.
There are some links here to organisations/people who may be able to help you.
EDIT – some screenshots to support information given above.
Further, link to video from BBC programme in Feb 2015 where Gena states she was hospitalised by her violent partner.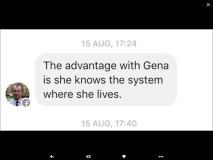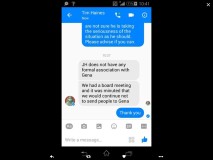 EDIT BBC programme 26th September 2016 – further interview with Gena. She takes 8 families a year. And she isn't going to stop.