In April 2017  I wrote at length about my experiences of being harassed on-line. How my photograph was repeatedly published, how accusations were made about my intelligence, my appearance, my sexuality. All of this designed to terrifying me into shutting up.  I sought help from a number of agencies and received very little. For some reason, this kind of behaviour is still shrugged off as childish or inconsequential.
It isn't.
I have more than usual resilience and an atypically combative nature. Even I have been shocked and frightened by what has been aimed at me. Particularly when my child is targeted.
I foolishly stated in April that this would be my 'last word' on the topic. I was fed up of so much of my time and energy being distracted by contemplating the ugly behaviour of some very disturbed people.
But they didn't stop. They started publishing my address. They started to try and use outside agencies such as the Information Commissioners Office, as a vehicle for their harassment. They continued to make bogus and malicious complaints to my Chambers (it seems in the mistaken belief that I am employed by my Chambers and could thus be sacked).
I kept hearing more and more accounts of people -usually women – forced off social medial because of persistent and malicious abuse directed at them.
I made nearly 50 reports to Twitter about the people who were violating its terms of service; Twitter responded to agree that yes they had! then did nothing. The abuse continues.
On my Twitter feed this morning I see the following post from another woman driven off social media by intimidation and others publishing her private details.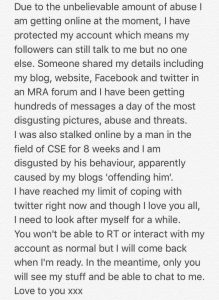 Enough surely is enough?
If Twitter won't act – maybe we can.  I am fed up of moaning about this, of nothing ever changing, of almost every day finding that I had to deal with insults, abuse and attempts at intimidation. This is particularly depressing when the main offender is a member of a regulated and protected profession – yet the profession takes an entirely relaxed approach to what has been persistently disgraceful and public behaviour for well over a year now.
So I have started this crowd funding project. How do you eat an elephant? One mouthful at a time. Lets start at the beginning. Lets get the groundwork  sorted for a clear legal challenge to either the failure of platforms such as Twitter to enforce their own terms of Service or against the individuals who so blatantly abuse the freedoms, privileges and responsibilities of having a voice.
Please donate if you can. But please do it anonymously – or you will run the risk of being targeted if seen to support this campaign.
Fed up of moaning about this. If Twitter won't act, let's see what we can do. Please donate if you can. https://t.co/Gg7KP1xmAF

— Sarah Phillimore (@SVPhillimore) October 19, 2017